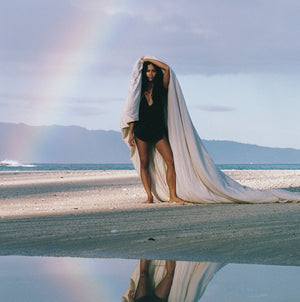 HIAMOE /he.a.moi/ The Hawaiian word for a peaceful sleep.
OUR PLANET, OUR STORY
AND OUR FUTURE
HIAMOE is born from a love of Mother Nature, beauty sleep, and gypset wonder…sprinkled with aloha, and a dose of timeless beauty.
HIAMOE FOR THE PLANET
Growing up in Hawaii surfing,  diving, and loving animals  it is super important to me that HIAMOE  respects nature. Mother Nature provides us with the ultimate majestic playground.  She gives us everything that we need to experience real happiness.  When you start manufacturing I believe there is a responsibility that comes with it.  How light can your environmental  footprint be? Are you creating earth-friendly pieces  people will feel proud to wear? 
We use linens and  responsibly sourced organic silk. 
We know that if it came from the earth it can go back to the earth.
We only use 100% natural fabrics which are biodegradable, and  environmentally responsible. All our products are OEKO-TEX Certified.
Silk and Linen are biodegradable, and their production offers a far lower carbon footprints than cotton production. Linen and silk have a reputation for durability which means each piece lasts longer and reduces waste.
NATURAL FABRICS
HIAMOE pieces are either linen or silk;  two of the most sustainable fabrics you can choose for your wardrobe.  Because both these fabrics are some of the of the oldest sources of textiles, they predate synthetic additions, pesticides and chemicals.  
"Buy well so you buy less"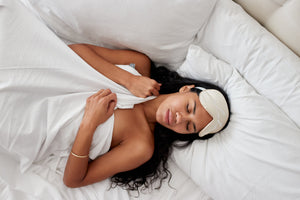 All orders ship in I'm the original comPOST Pack - a certified home compostable, fully biodegradable mailing satchel partly made from plants. Our tissue paper is made from recycled, biodegradable materials so that it's 100% compostable. ​
Our Vision
HIAMOE is a small curated collection of timeless pieces with a heritage in silk sleep masks.  With our  love of  'buying well, so you buy less" and traveling light we have created a small collection of essential pieces that flow beautifully from your home, to barefoot in the sand, to dancing under the stars.
Founded in 2018.  My vision for HIAMOE came to me during a long transpacific flight when I  reached for a shirt to put over my eyes.  After which I started researching the importance of sleep. " Good sleep is necessary to boost your immune system, lower stress, improve skin,  balance blood sugar levels...and so much more."  This authentic love for sleep and everything it embodies is the soul of HIAMOE.  
The better we sleep, the healthier we are, and the more alive and beautiful we feel.
GIVING BACK
HIAMOE is partnered with Tree-Nation to plant one tree for every HIAMOE item sold. MĀLAMA I KA 'ĀINA - care for the land, and the land will care for you.
To sleep well & feel gorgeous as you manifest your dream life -
this is HIAMOE's wish for our customers